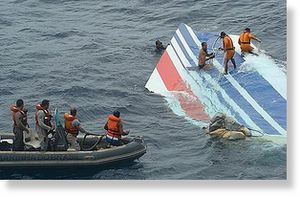 Investigators have found eight more bodies in the Atlantic Ocean, bringing the total recovered from Air France flight 447 to 29.
Search crews also recovered the vertical stabiliser from the tail section of the airliner, according to Air Force Col. Henry Munhoz, a spokesman for the Brazilian airforce.
The discoveries of debris and the bodies are all helping searchers narrow their hunt for the jet's black boxes, perhaps investigators' best hope of learning what happened to the flight. The data and voice recorders are located in the fuselage near the tail section of the jet.
William Waldock, who teaches air crash investigation at Embry-Riddle Aeronautical University in Prescott, Arizona, said that does not mean the black boxes will necessarily be located near where the debris was recovered, "but finding the tail narrows down the area even further."