A pebble-sized meteorite crashed and burned into Earth, grazing 14-year-old Gerritt Blank while on his way to catch the school bus.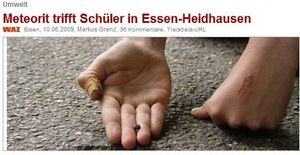 "At first, I only saw a big, white ball of light. Then, my hand hurt, and then it slammed into the street," he told daily
Westdeutsche Allgemeine Zeitung
. "After I saw the white light, I felt something on my hand."
The result was a 10-centimetre burn on the back of his left hand, but Blank knew something special had happened to him.
"I thought the meteor struck me, but it could also be a result from the heat as it went by me," he said.
After the intial shock, Blank looked at the glowing rock that left a sizable crater in Brakeler Wald Street. He then took the iced tea from his school lunch and doused his glowing pebble and took it to school with him.
"At school, I told the story. My classmates believed me," he said. His parents didn't get to hear the story until the end of the school day.