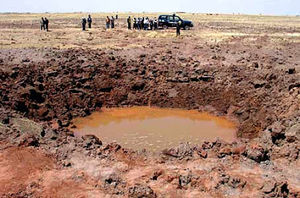 The cause of illness from meteorite impact was discovered to be decidedly not out-of-this-world.
A significant cosmic event occurred when a massive meteor struck on September 15th outside the farming village of Carancas, near Lake Titicaca. The meteor created an imposing eight meter (26-foot) deep, 20 meter (65 foot) wide crater. Almost immediately the object was ruled to be a meteor and not something of terrestial origin.
The massive crater emitted strange fumes, which made over 30 villagers violently ill, with headaches and nausea. Reports on the exact number of victims ranged from 30 to "about 200." Speculations on possible "out-of-this-world" causes were rampant.
Police blocked off the crater, and the villagers were transported to hospitals.
The director of the health ministry in the Puno region, Jorge Lopez, said none of the patients was in serious condition but that they would have to undergo blood and neurological tests as a precaution in three to six months.