At Gerrity Stone in Woburn, they know a lot about rocks. But they can't identify the one that punched a hole through their roof the other day.
NewsCenter 5's Kelley Tuthill reported that experts are examining the object, trying to determine exactly what it is.
"No one around here has ever seen anything like this. A real mystery," said Gerrity's Alan Weiner.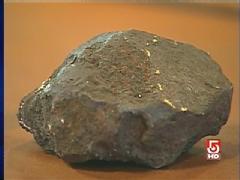 ©TheBostonChannel.com