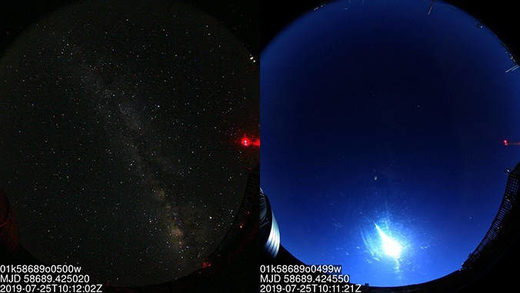 A bright flash that illuminated the sky the night of July 24 was caused by a rock, estimated to be between the size of a softball and basketball, entering the Earth's atmosphere.
The University of Hawaii's Asteroid Terrestrial-impact Last Alert System program on Mauna Loa caught an image of the meteor
that briefly lit the sky brighter than a full moon.
According to a UH news release, the ATLAS program, located at the National Oceanic and Atmospheric Administration facility on Mauna Loa, searches for hazardous asteroids, and its all-sky weather-monitoring camera captured an image of the meteor during routine monitoring of the night sky.
"They are scientifically interesting and visually spectacular
but pose no threat whatsoever,
" said ATLAS principal investigator Larry Denneau. "These occur over Hawaii Island maybe once every few months, and around the world there are dozens per night."

Comment: The statement that these meteors 'pose no threat whatsoever' isn't entirely true. See: