At a 71-degree angle, going 60 mph, an object went through the house of Bloomington residents David and Dee Riddle at 9:40 a.m. Monday morning. Although it has not been officially confirmed, the object is suspected to be a meteorite.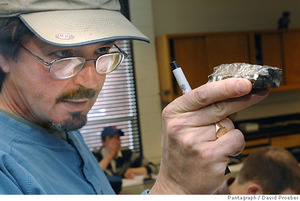 ©Pantagraph/David Proeber
James Day, a professor of Geology at Illinois State University examines a space object that fell through the atmosphere and crashed through the window of a Bloomington home on Monday.
"I was in the kitchen when I heard the sound of glass breaking," Dee Riddle, whose house is located off of West Miller Street, said. "There was also a thump and a shake."