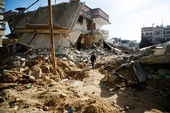 Contrary to the heavily-hyped image according to which the policy output of Finland is even-handed and neutral in the Israel/Palestine conflict,
Finland is actually a major arms trading partner with Israel
. Recent reports by the Committee of 100 in Finland, Amnesty International, as well as an article in Finland's biggest newspaper,
Helsingin Sanomat
, all revealed Finland's deeply troubling attitude towards the actions of the State of Israel.
Since 2002 the value of trade between Finland and Israel in anti-tank guided missiles has been more than 4 million euros. After numerous queries Finland's Ministry of Defense admitted that Finnish corporation Insta DefSec Inc. had subcontracted this material to Rafael Advanced Defence Systems, a major Israeli weapons manufacturer with ties to Israel's nuclear programs. Insta has exported more than 200 thermographic cameras and 3,000 parts for the missile's seeker head, both crucial components of the Spike anti-tank missile (Jarmo Pykälä, "
Panssarintorjuntaohjusten osia ydinaseyhtiölle
,"
Kansan uutiset
, 9 April 2009).