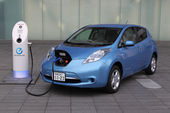 Owners of electric vehicles like the Nissan Leaf (100-mile driving range) and the Tesla Roadster (211-mile driving range) have the advantage of traveling on America's roads without having to spend a penny on gasoline. And even though the Chevrolet Volt uses a gasoline engine when its battery pack is exhausted, some drivers have managed to average 1,000 miles between gas stops.
The State of Washington, however, isn't too keen on EV drivers skirting the state's gas tax, which helps to maintain the roads that EV drivers travel on every day. According to the Associated Press, Washington has a $5 billion dollar deficit, and hitting the pockets of EV owners is just one way to help close the gap.
Washington's gas excise tax is one of the highest in the nation at 49.4 cents per gallon [PDF] -- 31 cents of the total is from the state, while the federal tax is 18.4 cents. Assuming that the average driver travels about 12,000 miles per year, a Nissan Leaf driver (EPA rated 99 mpg) would only be skipping out on $38 of the state's portion of gasoline excise tax. For a Chevrolet Volt driver (EPA rated 93 mpg on battery power), the tax revenue lost by the state would amount to $40.