At least 190 injured during civil disobedience campaign held in 18 towns and cities across the country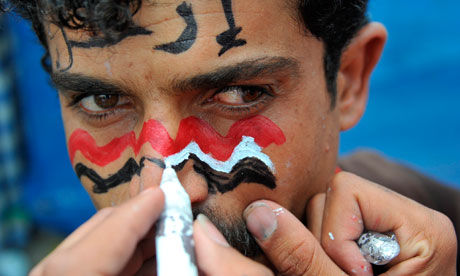 Security forces opened fire on an anti-government demonstration in the capital Sana'a, killing 12 protesters and wounding some 190, a doctor said. The violence broke out as 100,000 regime opponents filled a landmark square at the centre of the uprising, spilling into the streets around the state TV building. Yemenis in at least 18 cities and towns launched a civil disobedience campaign in an escalation of their more than two-month-long uprising to bring down president Ali Abdullah Saleh. Shops, schools and government offices were shut. The closures are planned twice weekly until Saleh steps down, activists said.
Inspired by revolts across the Arab world, Yemenis have staged near-daily protests calling for the ouster of Saleh, the country's ruler of 32 years. At times, millions have flooded the streets of the capital and other cities and towns. The president has clung to power despite the street protests and defections by many loyalists, including his tribesmen, military officers and senior officials.
Security forces and Saleh supporters have killed more than 130 people since the unrest erupted in early February.