Puppet Masters
hhhpets
YouTube
Sun, 19 Jun 2011 12:00 UTC
---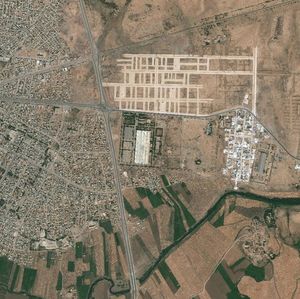 Washington - U.N. investigators have identified a previously unknown complex in Syria that bolsters suspicions that the Syrian government worked with A.Q. Khan, the father of Pakistan's atomic bomb, to acquire technology that could make nuclear arms.
The buildings in northwest Syria closely match the design of a uranium enrichment plant provided to Libya when Moammar Gadhafi was trying to build nuclear weapons under Khan's guidance, officials told The Associated Press.
The U.N.'s International Atomic Energy Agency also has obtained correspondence between Khan and a Syrian government official, Muhidin Issa, who proposed scientific cooperation and a visit to Khan's laboratories following Pakistan's successful nuclear test in 1998.
The complex, in the city of Al-Hasakah, now appears to be a cotton-spinning plant, and investigators have found no sign that it was ever used for nuclear production. But given that Israeli warplanes destroyed a suspected plutonium production reactor in Syria in 2007, the unlikely coincidence in design suggests Syria may have been pursuing two routes to an atomic bomb: uranium as well as plutonium.
Details of the Syria-Khan connection were provided to the AP by a senior diplomat with knowledge of IAEA investigations and a former U.N. investigator. Both spoke on condition of anonymity because of the sensitivity of the issue.

Comment: We've seen this before a time or two. The next thing will be Hillary giving physical [faked] evidence of Mustard Gas, Atomic bombs that can be launched and hit anywhere in the world in less than 15 minutes, etc.. to the United Nations. So many things in this article are implied as statements of facts coming mostly from anonymous individuals.The fact is the Western world has little to no evidence, only mountains of speculation, hubris and a desire to sideline Syria along with the rest of the Middle East that hasn't yet been colonized.

Perhaps a Democracy could rise up, in friendship and trust, and communicate the need for Syria to come clean WITHOUT threats of violence? Sadly there is little to no Democracy going on anywhere in the world.


---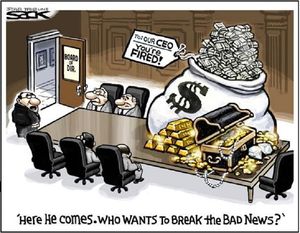 Golden parachutes, the huge payouts some CEOs receive when they're ousted from the top job, have been the subject of increasing public scrutiny.
But now, exorbitant payouts to chief executives of companies that have been acquired are becoming a new kind of parachute and they are even more lucrative than getting sacked, according to a
Wall Street Journal
analysis of filings with the Securities and Exchange Commission.
The CEOs of three recently acquired companies will rake in sums of $50 million or more
as a result of the deals, according to
The Wall Street Journal
.
For example, cell phone maker Motorola's CEO Sanjay Jha could receive a $65.7 million payout from Google's acquisition of the company if he leaves within two years. Michel Orsinger, the chief executive of medical device company Synthes, which was acquired by Johnson & Johnson, could get $51.9 million if he leaves the company within two years. And George Lindemann, the CEO of natural gas pipeline operator Southern Union, could receive $53.8 million from the acquisition by rival company Energy Transfer Equity, the
WSJ
reported.
The payouts are considerably higher than those of chief executives who have been let go; for example, Leo Apotheker, the former CEO of Hewlett Packard who was recently replaced by Meg Whitman in September, received about $13 million for walking away from the job.
The Dodd-Frank financial reform law attempted to inhibit such payouts by calling for advisory votes on exit packages for deals requiring shareholder approval, but so far, only 25 such votes have been scheduled, according to the
WSJ
.
---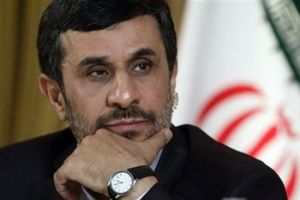 Iran's parliament is set to summon President Mahmoud Ahmadinejad for questioning over an economic scandal and his polices after the required number of lawmakers signed a petition Sunday, the latest salvo in a long battle between the president and his rivals.
Ahmadinejad would be the first president to be hauled before the Iranian parliament, a serious blow to his standing in a the conflict involving the president, lawmakers and Iran's powerful clerics.
At least 73 lawmakers signed the petition to question Ahmadinejad, just above one-quarter of the 290 members required by Iran's constitution to call in a president.
Earlier the parliament found Ahmadinejad's economics minister guilty in relation to a $2.6 billion fraud case, considered the largest in Iran's history.
This is just one of several economic misconduct cases that target Ahmadinejad allies, evidence that his political struggles are a factor. Ahmadinejad has been wrestling with the parliament and the clergy over in the run-up to parliamentary elections in March and a presidential election in 2013.
Ahmadinejad has come under increasing attacks in recent months from the same hard-liners who brought him to power.
Dozens of Ahmadinejad's political backers have been arrested or hounded out of the public eye by hard-line forces in recent months. His protege and top aide, Esfandiar Rahim Mashaei, has been effectively blackballed from his goal of succeeding Ahmadinejad in 2013 elections by a series of reputation-killing accusations.
---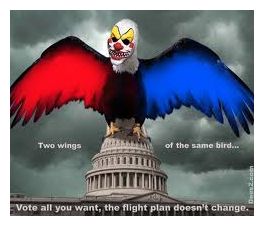 What is a false dichotomy? It is a situation where there seems to be a narrow field of two options to choose from, when there is actually a larger set of possibilities beyond those guidelines. In other words, you are asked to choose between black and white, leaving you to think that the only colors in existence are black, white and maybe gray, when in reality there is a whole palette of different shades and tints that were left completely out of the discussion.
The statement, "If you're not with us, then your against us" is a classic false dichotomy, because it presents two options -- both of which amount to violence -- while completely neglecting the option of remaining neutral. Likewise, the traditional two-party political system in the West is a striking example of the false dichotomy. The Democrats and Republicans may have some small insignificant differences that play on people's emotions, but when it comes to all the important things that effect everyday life for average people there is a "bipartisan consensus" to protect Anglo-American business interests, regardless of public opinion. This bipartisan alliance against the average citizens results in a one-party system that gives the illusion of being a two-party system. This leaves no choice for the majority of the country who just want to live honest lives without being subject to the policies that either of those two parties are seeking to enact.
After watching identical policies transpire under Bush and Obama, most Americans have come to understand that both parties are one and the same.
However, there are many deeper false dichotomies in our civilization which can also hinder our ability to see the big picture.
The most pervasive example would be that of big business and government; Wall Street and Washington.
---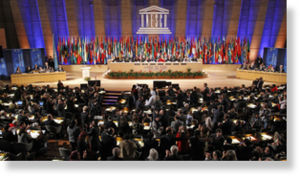 Canada is "not happy" with the vote to grant UNESCO membership to the Palestinians and will reconsider its participation in the UN cultural body, Foreign Minister John Baird said Monday.
The UN Educational, Scientific and Cultural Organization on Monday adopted a resolution to admit Palestine, with 107 countries voting in favor, 14 including the United States and Canada voting against, and 52 abstaining.
The United States, a staunch ally of Israel, quickly said it would cut all funding to the Paris-based UN body, in accordance with a 1990s law banning the financing of any UN organization that accepts Palestine as a full member.
"We are not happy with UNESCO's decision. We are working to determine what our response will be," Baird told reporters.
"We are in the process of evaluating our future participation" in UNESCO, he added, highlighting the body's "important work," notably in preserving world heritage sites.
Canada contributes about $10 million a year to UNESCO.
---
Margaret Kimberley
Uruknet
Sun, 30 Oct 2011 17:50 UTC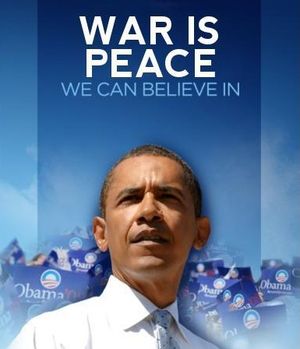 Never in living memory has a Noble Peace Prize recipient gone on to cause more death and misery than Barack Obama, who now puts hits on U.S. citizens. His foreign policy "successes," as rated by his supporters, all involve assassinations - he is The Assassinator. Moammar Gaddfi is a singular victim, but so are thousands of Black Libyans and migrants. His killer drones operate in at least six countries, and his Special Forces in more than 75. Meanwhile, WikiLeak's Julian Assange, who revealed U.S. global crimes, "probably faces a future extradition to the United States when he ought to be honored by the world community." The whole nation of Norway should be mortified.
"The president has presided over one of the most violent eras in the recent history of American international relations."
---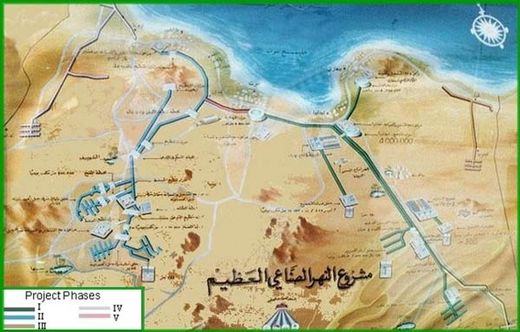 Were the Norway terrorist attacks designed in part to cover this story? Both occurred July 22nd, 2011 and only one has really seen the light of day in the alternative as well as the mainstream media.
Last week
Pravda reported
that NATO attacked the Great Manmade River pipeline in Libya which literally brings water across the desert to millions of Libyans and farms in western and southern Libya as well as to the capital Tripoli and Benghazi. The Manmade River project is not only a life-sustaining source of water for millions of Libyan people and a core part of Libya's agriculture, it also stands as a source of national pride and identity. It is the
largest irrigation system in the world
and you can find
a map of it on the Libyan dinar note
. Gadhafi himself called it "the eighth wonder of the world". They started the project in 1983 with an extraordinary session of the People's Congresses and 25 billion dollars later, it was completed. Funding came from profits from the very oil industry that NATO countries hope to privatize.
NATO's strikes seem to have been extremely deliberate in their planning. First, they targeted a key section of the water supply line itself, then the next day or so, they targeted the only facility which makes the replacement sections of the pipes.
Comment:
Here is some backgound information on Libya's 'eight wonder of the world':
Source: Libya S.O.S.

Libya's investment bank used $33 billion, without interest rates, to build the 'Great Man-Made River', the "eighth wonder of the world". It is, or was, 3,750 kilometers long with three parallel pipelines running oil, gas and water from deep in the Saharan desert up to Libya's cities in the north of the country, over an area roughly the size of Western Europe. The River project supplied 70% of the Libyan people (4.5 of its 6 million population) with clean drinking water from enormous aquifers discovered under the sands in the 1980s.

Here are some facts and figures to give you an idea of sheer scale of this project. (Source: official website of the Great Man-Made River Authority, h/t Libya S.O.S.)

Some half a million concrete cylinder pipes, some wide enough to drive articulated trucks through, were made up until the point NATO (the US) blew up Libya's infrastructure.
Transporting these enormous structures across the sands was ongoing until 19 March. Work went on day and night, all year long, for decades. The accumulative distance traveled by the transporters is apparently equivalent to the sun and back.
Before all this even began, over 3,700 km of roads had to be constructed alongside the gigantic pipe line trenches to enable the heavy trucks to deliver pipe sections to the installation sites.
Volume of trench excavation: 250 million cubic meters.
The amount of aggregate materials used in the project: 30,000,000 tonnes, enough to build 20 pyramids the size of the great pyramid of Khoufu.
Total weight of cement used: 7 million tonnes.
Total length of pre-stressing wire: 6 million kilometers; this would circle the Earth 280 times.
What an incredible turnaround for a country that was the poorest on the planet just 40 years ago. But certain other civilised countries across the seas looked on jealously as their own indebted, crime-ridden societies began crumbling. And then along comes NATO, activated by the US as usual, under the bullshit pretext of 'protecting the Libyan people'.
The unconscionable destruction of Libya's pioneering water supply infrastructure by NATO war jets was a heinous deed.
It has also emerged that Libya was set to be awarded commendation for its commitment to, and implementation of, international treaties governing political and economic human rights, religious freedom and freedom of expression, by the Human Rights Council of the UN General Assembly just days after the launch of the US-European air assault on civilians. Some of the countries which praised Libya's human rights record in
this report
then subsequently joined in the mass-murder.
There is another way to describe this level of murderous deceit: purely psychopathic.
---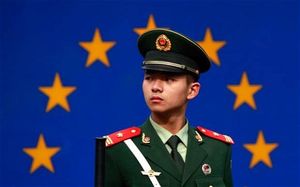 China has stressed it will not be a "saviour" to Europe as President Hu Jintao embarks on an official visit to the continent that will take in this Thursday's crucial G20 summit in Cannes.
The warning came as European Commission President Jose Manuel Barroso and European Council President Herman Van Rompuy urged G20 leaders to use the meeting of major economies to address Europe's debt crisis, saying measures proposed last week were not enough by themselves.
French President Nicolas Sarkozy has said Beijing had a "major role to play" in proposals to expand the European Financial Stability Facility (EFSF) to €1 trillion (£877bn), possibly through a special purpose investment vehicle that would attract backing from sovereign wealth funds.
The head of the bail-out fund, Klaus Regling, was despatched to Beijing to discuss terms, but travelled on to Japan at the weekend without an agreement.
China, holder of the world's largest foreign exchange reserves at $3.2 trillion, said it wanted more clarity before investing.
---

According to right-wing Italian journalist Franco Bechis, plans to spark the Benghazi rebellion were initiated by French intelligence services in November 2010. As Miguel Martinez from the progressive ComeDonChisciotte website observes, these revelations which have the blessing of the Italian secret services should be interpreted as the sign of existing rivalries within the European capitalist camp. Voltaire Network wishes to point out that Paris promptly paired up with London in its scheme to overthrow Colonel Khadafi (Franco-British expeditionary force). This plan was recalibrated in the context of the Arab revolutions and taken over by Washington, which imposed its own objectives (counter-revolution in the Arab world and landing AFRICOM on the African continent). Therefore, the current coalition arises from a diversity of ambitions, which accounts for its internal contradictions. The timeline of events which set the stage for the military intervention against Libya is presented below.
Timeline of events
October 6, 2011
Nouri Mesmari turned himself over to the French secret service and, according to the Italians, he masterminded the revolution against Gaddafi. The document was leaked to Italian newspaper
Libero
.
In the documents, the French secret services refer to Mesmari as 'The Libyan Wikileak' because he gave them all the inside information about the regime as well as an account of who's who in Libya and who they should or should not contact.
With all the inside information, the Italians claim that by mid-January the French had paved the way for the beginning of the revolution against Gaddafi.
---