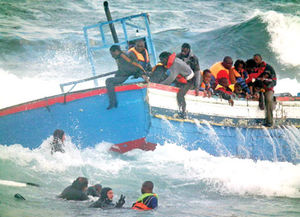 According to the UN refugee agency UNHCR, 1,500 Libyan refugees have died while trying to cross the Mediterranean to Europe since the beginning of the war against Libya in March. On August 4, the
Süddeutsche Zeitung
reported a death toll of 1,820 since the beginning of the year.
The victims are people from Libya and other African countries trying to flee economic hardship, political persecution or escape the war, risking their lives in the process. Penned into small, unseaworthy boats by unscrupulous traffickers, they drown or die of thirst at sea.
The distance between the Italian island of Lampedusa, the goal of most refugee boats, and Tunisia, the nearest point on the African coast, is just 130 kilometers. The distance to the Libyan coast is about twice as far.
This relatively small area of sea is currently filled by one of the largest navies in the world. About 20 warships from 10 NATO countries, including several aircraft and helicopter carriers, are supporting the assault on Libya. They are equipped with radar and other advanced technology and can easily detect any movement on the sea. The region is also constantly monitored by NATO AWACS aircraft, which can detect minute vessels.