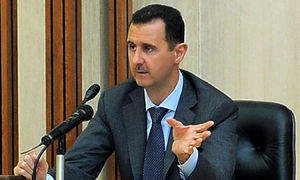 EU leaders echo stinging rebuke, delivered by US president in executive order imposing sanctions and assets freeze
Barack Obama has led a demand by world leaders for the Syrian president, Bashar al-Assad, to surrender power. The US president declared that the "sustained onslaught" of Assad's regime against pro-democracy protesters has cost it all legitimacy.
The US president was joined by David Cameron of Britain, Nicolas Sarkozy of France and Angela Merkel of Germany, as well as the European Union in demanding Assad immediately resign.
Obama said the Syrian people's pursuit of democracy was an inspiration that had been met with "ferocious brutality" by their government.
"The future of Syria must be determined by its people, but President Bashar al-Assad is standing in their way. His calls for dialogue and reform have rung hollow while he is imprisoning, torturing, and slaughtering his own people," Obama said.