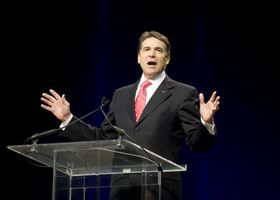 The fundamental facts of the presidential race at this moment are that unemployment is high, the economy is by far the most important issue to American voters, and President Obama's handling of economic questions is overwhelmingly unpopular. Republican presidential hopefuls Rick Perry, Mitt Romney, Michele Bachmann and others are hammering the president daily on matters of job creation and economic growth.
Now some of Obama's activist allies and supporters in the press are engaged in a sharply focused effort to change the subject. Even as economic anxieties continue to rise, some of the nation's premier political journalists are consumed with the alleged influences of obscure religious philosophers on Republican candidates; on questions of creationism, evolution, and the age of the Earth; and on the fantasy that a Republican president might transform the United States into an Iranian-style theocracy.
For example, the
Daily Beast/Newsweek
recently published an article titled "A Christian Plot for Domination?" claiming that
Perry and Bachmann are "deeply associated with a theocratic strain of Christian fundamentalism" known as Dominionism.
A widely discussed article in the Texas Observer claimed that Dominionists -- a "little-known movement of radical Christians" -- are readying an "army of God" to "commandeer civilian government," with Perry the "vessel" for their ambitions. Finally, the New Yorker published a long article claiming that Bachmann believes "Christians, and Christians alone, are Biblically mandated to occupy all secular institutions until Christ returns."