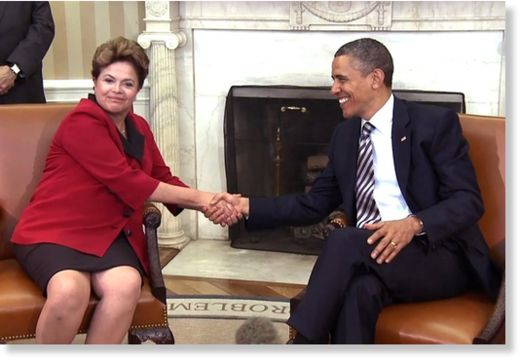 President Dilma Rousseff wants to route internet traffic away from the US, but experts say it will do little to deter American espionage
Revelations about the American government's ongoing electronic surveillance have sent shockwaves across the globe, but few countries have reacted as boldly as Brazil, where lawmakers are currently considering a plan to cut ties - quite literally - with the US.
Earlier this month, Brazilian president Dilma Rousseff
announced
plans to create an undersea fiber-optic cable that would funnel internet traffic between South America and Europe, bypassing the US entirely. Rousseff also urged legislators to pass an amendment that would force Google, Microsoft, and other US web companies to store data for Brazilian users on servers located within Brazil, while the country's postal service has already
begun developing
an encrypted domestic email system.
The moves come as a direct response to allegations that the National Security Agency (NSA) has been eavesdropping on Rousseff's phone calls and emails, according to classified documents leaked by whistleblower Edward Snowden. The reports, published earlier this year, have escalated diplomatic tensions between the Obama administration and Rousseff, who yesterday
accused
the US of violating international law in a scathing speech to the United Nations General Assembly.
Rousseff's proposals rest upon the premise that by routing web traffic away from American soil and keeping data within Brazil, the Brazilian government could more easily control and secure citizens' online information. But experts say the plans would do little to stop the NSA from spying on Brazilian communications, and some worry that they could lead to a more fractured internet.