In the summer of 1995, two years after being designated a United Nations Safe Area, the Bosnian town of Srebrenica became the scene of the worst massacre in the Bosnian war.

This is an account of the critical days leading up to the killings.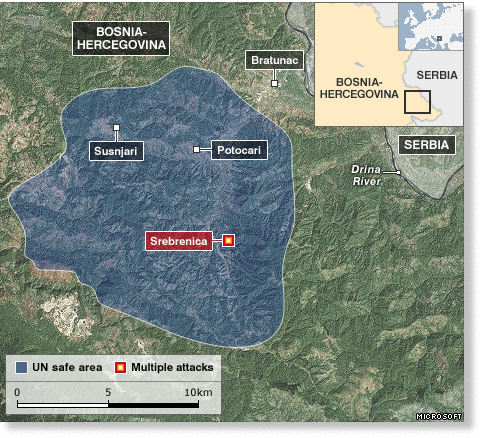 6 - 8 July 1995
: Bosnian Serb forces had laid siege to the Srebrenica enclave, where tens of thousands of civilians had taken refuge from earlier Serb offensives in north-eastern Bosnia.
They were under the protection of about 600 lightly armed Dutch infantry forces. Fuel was running out and no fresh food had been brought into the enclave since May.
Serb forces began shelling Srebrenica. Bosnian Muslim fighters in the town asked for the return of weapons they had surrendered to the peacekeepers but their request was refused.
The Dutch commander called UN Headquarters in Sarajevo asking for "close air support" after shells and rockets landed close to refugee centres and observation posts manned by peacekeepers.