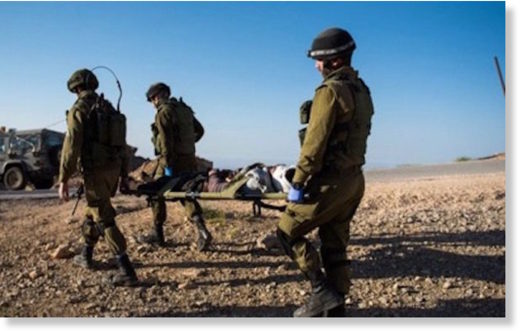 Tsahal
has revealed part of the "Good neighbor" operation that it has been leading in Syria for the past six years.
According to the Jewish News Service, the Israeli Defense Forces have brought aid to more than 4,000 Syrians that have been injured, more than 500 of which are children. The Israelis have delivered more than 450,000 litres of fuel, 40 tonnes of flour, 225 tonnes of foodstuffs, 12,000 kits for babies, 1,800 packets of nappies, 12 tonnes of shoes and 55 tons of clothes to face the cold.
The communication from
Tsahal
seems intended for internal usage to calm its population,
troubled by the support Tel-Aviv is lending to the jihadists
. It is accompanied by a video that has no hesitation in mixing authentic videos with clips that MI6 has filmed in the North of the country (in other words, outside the zone covered by "the Good neighbor").

Comment: So there are some sane people in Israel who are finally getting wind of their government's wrongdoings, and some good photo ops were needed to maintain the facade of illusion of Israeli benevolence.