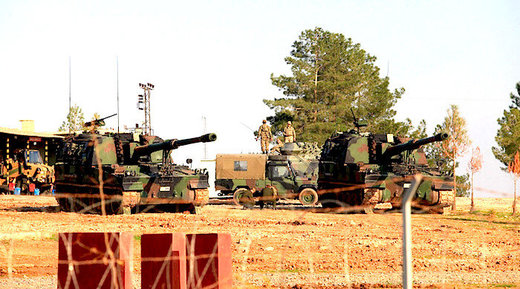 The Turkish army has delivered artillery strikes on Kurdish positions near Manbij and on Islamic State targets in Jarablus in northern Syria
, media report. The assault came after several stray shells struck inside Turkish border territory on Tuesday. Turkish howitzers fired about 20 rounds across the Syrian border on Monday, targeting Kurdish-held Manbij, Reuters reports, citing an unnamed Turkish official who also confirmed that the shelling of Jarablus, which is held by Islamic State (IS, formerly ISIS/ISIL, also Daesh), is continuing.
"The Turkish state officially supports Daesh and bombs the positions of the Manbij military council and its countryside
in the northern axis of the defense positions at Sajur river," Sharvan Darwish, a spokesperson for the Kurdish-Arab Syrian Democratic Forces (SDF), said on Monday, ARA News reported. The SDF forces are backed by the US-led coalition.
Kurdish NRT TV also reported that both the positions of SDF forces north of Manbij and Manbij Military Council (MMC) fighters in the area had been shelled by the Turkish army.
Ankara also shelled IS targets in northern Syria after the Turkish border town of Karkamis
in the southeastern province of Gaziantep was
hit by two stray shells
on Tuesday, broadcaster NTV said, citing the military. No casualties were reported.