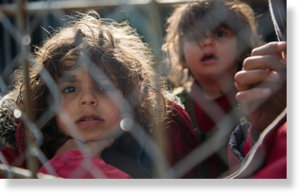 Perhaps the only positive thing about the deteriorating social and environmental conditions on our planet is the fact that they tend to drive our 'leaders' to increasingly desperate acts to secure their positions in power. As part of this process, this 'elite' are also given to telling increasingly outrageous and transparent lies. Take the Syria/Turkey/Russia/EU/US refugee debacle that has been raging for over 2 years for example.
For the last 5 years Western powers and their media lackeys have made no bones about the fact that they have been fully supportive of the 'Syrian rebels' in their brutal war against the Syrian people in an effort to overthrow the democratically-elected Assad government. No secret was made either of the fact that various Western governments were directly funding, training and arming these 'rebels' who were then killing Syrian civilians en masse. During that time, it came to light that the vast majority of the 'rebels' are of the crazy-jihadi variety, low-brow foreign mercenaries willing to fight for any cause as long as you pay them enough, or give them enough candy bars and
Saudi-supplied amphetamines like captagon
.
A
good portion of those jihadis came from Libya
, where they were well-known to agents of the US, not least to Hillary Clinton, who used them to destroy Libyan society and publicly sodomize and murder Muammar Gaddafi,
much to Clinton's delight
. What a wonderful prospect for the American people to have such a vile psychopath represent them.