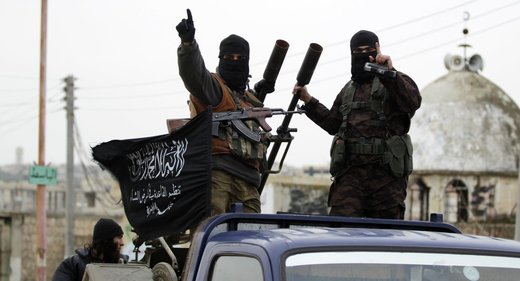 Syria's Idleb province is held by Jabhat al-Nusra, aka al-Qaeda in Syria, and Ahrar al Sham with a sprinkling of "moderates" added to the mix. While Nusra and Ahrar have support from Turkey, Saudi Arabia and Qatar, the "moderates" are supported by the CIA which provides them with anti-tank weapons.
When in 2013 these groups stormed government held positions in Idleb, Nusra, Ahrar and Islamic State Jihadis
were leading
the fighting and employed suicide bombers.
Their attacks were supported by electronic warfare measures from Turkey which disabled the Syrian Army's communication. The CIA "moderates" were integrated as anti-tank teams using their U.S. supplied weapons in support of the Jihadi offense.
The U.S.-supported groups in Idleb are currently grouped under the moniker "Division 13" or "Brigade 13". The cessation of hostilities in Syria means that all these "moderates" in Idleb province have time to
discuss
their ideological differences. Jenan Moussa (
@JenanMoussa
) is the "Roving reporter Arabic Al Aan TV. Based in Dubai but roams around MidEast". She reports on Syria from a mostly pro-opposition standpoint and has long favored "moderate" as well as "not-so-moderate" Jihadis.