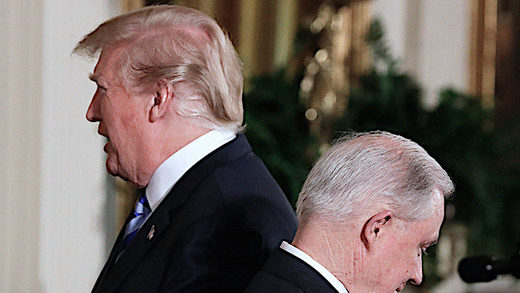 President Donald Trump has urged his attorney-general to probe
why Barack Obama failed to stop alleged Russian election meddling on his watch.
That followed a string of Trump tweets accusing his predecessor of inaction.
Ever since Hillary Clinton lost the 2016 vote, Democrats have accused Russia of influencing the election and colluding with Trump to defeat their candidate, widely considered to be an absolute favorite to win the White House.
"If all of the Russian meddling took place during the Obama Administration... why aren't they the subject of the investigation?"
Trump asked in an early morning tweet on Wednesday.
Over the previous two days,
Trump had tweeted that he had been "much tougher on Russia than Obama,"
who initially dismissed the notion that a foreign country could influence a US election because "he thought Crooked Hillary was going to win and he didn't want to 'rock the boat'," according to Trump.