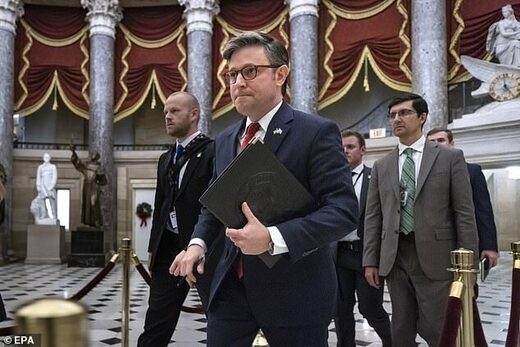 Will blur out the faces of some of rioters
Speaker Mike Johnson announced Friday he would begin making all of the January 6th footage available to the public immediately, following through on a promise to right-wing
conservatives
that started under former Speaker
Kevin McCarthy
.
The clips will be posted on the Committee on House Administration's
website
and much of the more than 44,000 hours of security footage from Jan. 6 has already gone up. Around 90 hours of footage is expected Friday and the rest over the coming months.
The clips will blur the faces of private citizens to ensure no one is 'targeted for retaliation of any kind.' The speaker said roughly five percent of the footage would not be posted so as not to release sensitive security information 'related to the building architecture.'
Rep.
Matt Gaetz
, R-Fla., had first demanded McCarthy make the footage public in negotiations to get him the speaker's gavel.