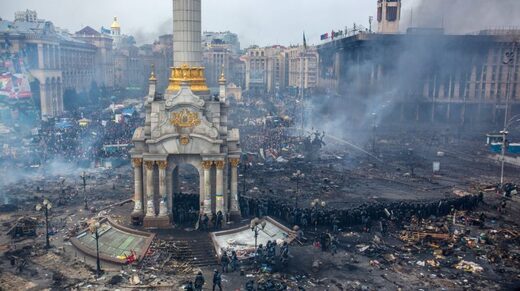 The Western-backed coup unleashed Nazism, war and destruction that ultimately exposes Western fascism
Ten years on from the Maidan uprising in Kiev, the country of the Ukraine has descended into utter chaos, corruption, fascism, destruction and suffering. And yet the Kiev regime and its Western state supporters have the audacity to call the tragic, bloody morass "a decade of dignity".
European Commission President Ursula Von Der Leyen
declared
this week: "Ten years of dignity. Ten years of pride. Ten years of striving for freedom. The cold November nights of Euromaidan changed Europe forever. The whole country took to the streets and spoke with one voice... The future for which Maidan fought has finally begun. Glory to Ukraine! Long live Europe!"
It is nauseating to hear such bare-faced lies and distortions. "The whole country took the streets"? It was a minority of Nazi ideologues bankrolled by Western powers. "Speaking with one voice"? The Maidan coup leaders murdered and burned opponents to death as in the Odessa pogrom on May 2, 2014, or in the deadly air strike on unsuspecting Lugansk civilians on June 2, 2014.