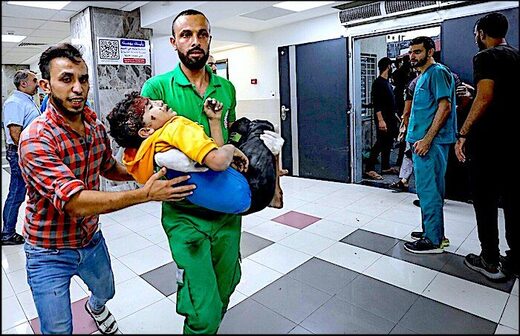 While telling the world that Hamas HQ was under al-Shifa Hospital, the IDF had already found the actual command center 8.5km away, reports Gareth Porter.
Although corporate news media have made it clear they don't buy the Israel Defense Forces (IDF) claim that al-Shifa Hospital has been a cover for a Hamas command and control center and weapons armory,
Western media have failed to report a much bigger story.
The IDF and the Israeli government already knew
when they launched their propaganda campaign about al-Shifa
that Hamas had no military command and control facility hidden there because it had already found the complex kilometers away.
As Consortium News
reported
last week, for 15 years the
Israelis claimed Hamas was operating its primary command and control base from a tunnel underneath al-Shifa.
After the Israeli bombing campaign against Gaza began in October,
the Israeli military amplified that message to press its contention that by hiding the Hamas high command, al-Shifa Hospital had lost its immunity from military operations under the law of war, and could now legitimately be taken over by force.
On Nov. 11, IDF spokesman Richard Hecht declared that al-Shifa was the "main hub of Hamas activity;"
Newsweek
reported
the IDF regarded al-Shifa Hospital as "Hamas's main command post" and the
Times of Israel
headlined
"Hamas leaders again hiding under hospital".
The crescendo of Israeli propaganda about al-Shifa being a "human shield" for Hamas came with
a long report published by
The New York Times
on Nov. 14. It was based on interviews with eight present and former intelligence and defense officials,
describing a vast military command complex
under al-Shifa with multiple levels.
But something quite unexpected had happened during this new round of press stories on al-Shifa that completely demolished the entire IDF story line:
the IDF had gained control of the real Hamas command and control center in an area where the Hamas leadership had previously had their above-ground offices in the Al Atatra neighborhood, in the extreme northwest of Beit Lahiya city, 8.5km away from al-Shifa.