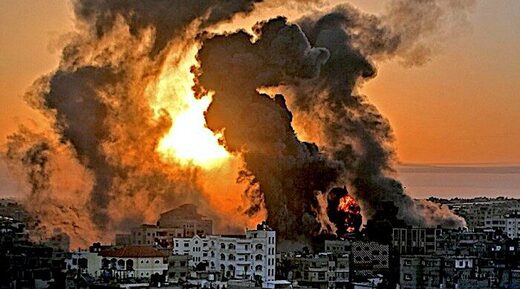 The present hostage exchange is centred on Gaza. However, Israel has three fronts of hot conflict open.
The Magician steps onto the stage, his black cloak swirling about him. Centre stage, he flourishes his hat: It is empty. He punches it lightly to demonstrate its solidity. The Magician then picks up certain objects and places them into his hat.
Into it goes Ansar Allah's seizure of an Israeli-owned vessel
(the situation is being 'monitored');
into it goes the Iraqi strikes on U.S. bases
(barely noticed by the main-stream media);
into it too go the 1,000 missiles fired into northern Israel by Hizbullah; into it goes the hot war in the West Bank. T
he Magician turns to the audience -
the hat is empty.
But the audience knows those objects have a physical reality, but somehow they are
magically obfuscated.
It is in this way that the western main-stream media maintains deterrence by playing down the state of war through what Malcom Kyeyune describes as
"a simulacrum of peace"
- of a gently subsiding conflict and the quieting deployment of (paraphrasing Kyeyune) a very "
post-modern question
": What exactly is the meaning of civilian 'non-combatant' anyway?
One aspect to the image of easing conflict is the
hostage exchange
that has been agreed.
It is both real, and at the same time it underpins the simulacrum that once Hamas is annihilated, and the hostages released, then the problem of 2.3 million Palestinians can go into the magician's hat, and be eased from sight.
For some, the hope is sincere and well intentioned - that once the fighting ceases, it will stay ceased, and that an end to the bombardment in Gaza might open a window to some
political 'solution'
- if it can be extended
sine dei
.
'Solution' being here but a polite word for the EU's attempted bribery of Egypt and Jordan.
Reportedly
, the
EU President, Ursula von der Leyen, visited Egypt and Israel to present them with financial offers
($10bn for Egypt and $5bn for Jordan), in exchange for the dispersal of the inhabitants of the Gaza Strip elsewhere -
effectively to facilitate the evacuation of the Palestinian population
from the Strip in line with
Israel's aims
of
ethnically-cleansing Gaza
.