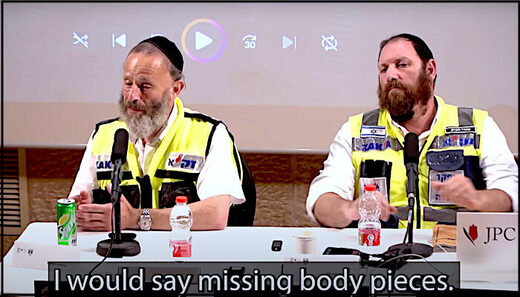 Founded by a serial rapist known as the
"Haredi Jeffrey Epstein,"
Israeli ultra-Orthodox rescue group
ZAKA is responsible for some of the most obscene post-October 7 atrocity fabrications,
from beheaded babies to "mass rape" to a fetus cut from its mother.
Secretary of State Tony Blinken and President Joseph Biden
have each echoed demonstrably
false ZAKA testimonies about Hamas atrocities.
Marred by allegations of financial fraud,
ZAKA is leveraging October 7 publicity to raise unprecedented sums of cash.
Its rival,
United Hatzalah,
has spun out bogus tales of babies baked in ovens
as it closes in on a $50 million fundraising goal.
During an October 31 Senate hearing on Israel's war in Gaza, Secretary of State Antony Blinken
offered his rationale
for rejecting a ceasefire. Summoning as much emotion as a dour Democratic Party operative could muster,
Blinken conjured up a gruesome scene
intended to illustrate the savagery of Hamas, and the impossibility of negotiations with such an organization:
"A young boy and girl, 6 and 8 years old, and their parents around the breakfast table. The father's eye gouged out in front of his kids. The mother's breast cut off, the girl's foot amputated, the boy's fingers cut off before they were executed."
The Secretary of State concluded, "That is what this [Israeli] society is dealing with."