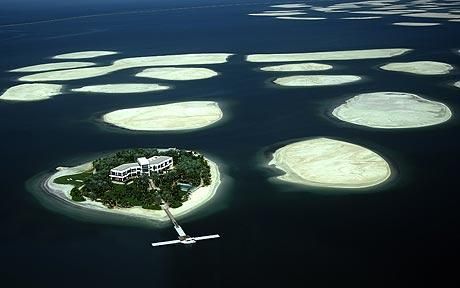 The islands were intended as the ultimate luxury possession, even for Dubai.
But the World, the ambitiously-constructed archipelago of islands shaped like the countries of the globe, is sinking back into the sea, according to evidence cited before a property tribunal.
The islands were intended to be developed with tailor-made hotel complexes and luxury villas, and sold to millionaires.
They are off the coast of Dubai and accessible by yacht or motor boat.
Now their sands are eroding and the navigational channels between them are silting up, the British lawyer for a company bringing a case against the state-run developer, Nakheel, has told judges.
"The islands are gradually falling back into the sea," Richard Wilmot-Smith QC, for Penguin Marine, said. The evidence showed "erosion and deterioration of The World islands", he added.
With all but one of the islands still uninhabited - Greenland - and that one a showpiece owned by the ruler of Dubai, most of the development plans have been brought to a crashing halt by the financial crisis.