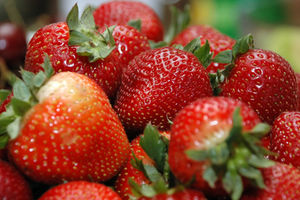 In the days before he left office, Governor Arnold Schwarzenegger's administration planted a chemical time bomb in California strawberry fields that, if not defused, could cause cancer, thyroid toxicity, permanent neurological damage, and miscarriages, according to 54 distinguished chemists, including five Nobel laureates (
PDF
).
The chemical in question is called methyl iodide (or iodomethane) and is marketed under the trade name MIDAS by
Arysta LifeScience
, a Tokyo-based firm that is the world's largest privately held agrichemical company. Methyl iodide is a fumigant that is injected into fields before planting to kill insects, microorganisms, fungi, weed seeds -
virtually every living organism
.
Claiming that it can also kill the humans who handle it or are unfortunate enough to live in the vicinity of farms (
PDF
), a group of farm workers and environmental health organizations filed suit late last year to reverse California's Department of Pesticide Regulation's approval of methyl iodide's use.