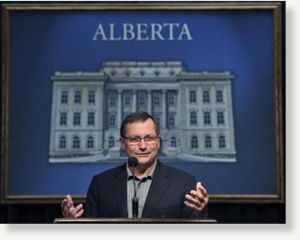 Alberta Premier Ed Stelmach surprised voters on Tuesday by saying he will resign, just three years after winning the largest parliamentary majority in the oil-rich province's history.
Stelmach, 59, a farmer by trade who has had a tumultuous relationship with Alberta's powerful energy industry, told reporters he plans to step down as head of the governing Progressive Conservative Party before the next election.
"There is no doubt that my decision today will come as a shock to many and a disappointment to my friends and Albertans," he said.
Alberta is one of the top suppliers of oil to the United States, thanks largely to its vast oil sands, the largest crude reserves outside the Middle East.
In his first election as leader, Stelmach's party won a landslide victory in the Western Canadian province of 3.3 million in 2008, despite discontent over his moves to boost royalties levied on the oil sector.
Since then, the premier has taken hits from disgruntled oil and gas producers, though royalty rates were rolled back during the recession, while facing accusations that his Conservatives have mismanaged the province's healthcare system.