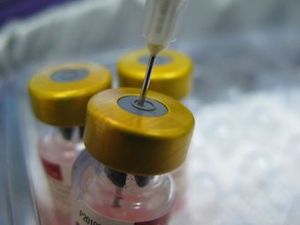 I find it ironic that the media, the British government, and leaders in medical academia jumped on board attacking and destroying Dr. Andrew Wakefield's reputation based on "fraud" charges related to a study he conducted about the link between the measles vaccine and autism.
It is ironic for a number of reasons. How can the British government, itself drowning in deception at every level, dare accuse anyone of fraud?
The panel assembled by the government and academia to judge Wakefield, ironically, dares to speak of fraud, yet their main complaint is that his findings "might endanger the 'sacrosanct' vaccine program," not that his principal findings were wrong. In fact, several independent researchers found the same measles vaccine-related colitis that he described.
A recently released charge by the
BMJ
editors is that Wakefield was poised to get huge profits from a product stemming from his research results. I am not here to defend Wakefield, rather, I demonstrate the double standard regularly practiced by his vocal critics.
Virtually every paper published on drugs, such as statins, is authored by individuals having financial links to as many as three to four pharmaceutical companies each. The same is true of papers published by major journals extolling vaccine efficacy and safety. They know these papers violate every ethical principle known, yet they are published in some of the most prestigious journals.
Abundant evidence has shown that these very same people destroy the reputations of anyone producing evidence, no matter how well researched and of the highest ethical standards, if it in any way endangers this vaccine program. It is ironic that these accusers speak of "blatant fraud," when virtually all of the vaccine safety evidence they use abundantly is fraudulent by careful design.