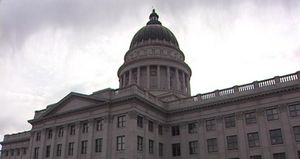 Legislators frustrated with federal control of lands across the state are proposing laws to challenge those policies.
The proposals may look to local law enforcement for support, which some opponents worry could lead to armed conflicts with federal officers.
A plan from Rep. Carl Wimmer, R-Herriman, would void any federal land designation made without the Legislature's approval. The bill is being reviewed by legislative attorneys.
Access to the disputed lands would be maintained by local sheriffs in whatever manner necessary, Wimmer said.
"There's not much more land the federal government can take," said Wimmer. "I'm saying any further land grabs not coordinated with the Legislature will be null and void."
Wimmer said the bill was prompted in large part by a December decision by U.S. Interior Secretary Ken Salazar to review millions of acres of undeveloped land in Utah for a possible wilderness designation.
House Minority Leader David Litvack, D-Salt Lake City, said Wimmer's proposal concerns him because of its implications for police.