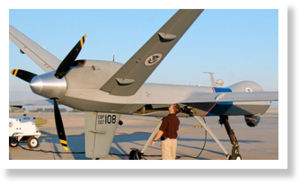 Unmanned aircraft fly the skies south of the 49th parallel in an effort to bolster border security
The unmanned planes look north toward the long, lightly defended and admittedly porous Canada-U.S. border - the best route many Americans believe for jihadists seeking to attack the United States to sneak across.
Like their missile-carrying military cousins prowling Pakistan's skies targeting al-Qaeda suspects
, the unarmed Predator aircraft that have patrolled the 49th parallel since 2009 are high-tech, sophisticated and little understood. And they are part of the same diffuse and determined effort the Unites States is making to secure its borders and defend itself.
"
We're here to protect the nation from bad people doing bad things
," says John Priddy, U.S. National Air Security Operations director for the Customs and Border Protection's Office of Air and Marine. He heads the Predator operation guarding American's northern airspace.