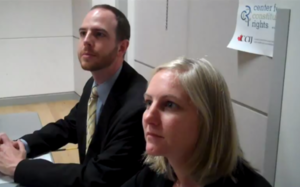 Legal groups in Canada and the United States have asked Justice Minister Robert Nicholson to open a criminal investigation against former U.S. president George W. Bush.
At a news conference today at the Vancouver Public Library central branch, two lawyers explained why there is a factual and legal case to hold Bush legally accountable in Canada for torture.
Katherine Gallagher, a senior lawyer with the U.S.-based Center for Constitutional Rights, said that a 70-page indictment and more than 4,000 pages of supporting material have been delivered to Nicholson in his role as the attorney general of Canada.
She said that this provides the legal basis for investigating and ultimately charging Bush under the Criminal Code of Canada's torture provisions. She indicated that this should occur when he visits the Vancouver suburb of Surrey on October 20 for a speaking engagement.
"Over the last 10 years, our organization, working on behalf of individual survivors of torture and individual detainees at Guantanamo Bay, has tried to seek accountability and an end to the torture program in the United States," Gallagher said. "As you all likely know, there has been no investigation and certainly no prosecution of George Bush for his individual criminal responsibility for torture. We have also tried to hold U.S. officials accountable in various European countries, including France and Germany, and we have an ongoing investigation that we are a part of in Spain."