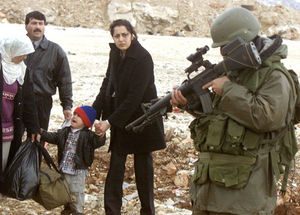 In the Turkish blockbuster action movie
Valley of the Wolves,
an American Jewish doctor in Abu Ghraib prison gently removes a kidney out of a live and suffering Arab prisoner and places it into a special vessel with the label "To Tel Aviv", thus reinforcing the Israeli-American bond of eternal friendship. Real life imitates cinema, as we learn from the dreadful story of Palestinian youths being hunted for their inner organs by that
most moral army in the world
, Israel's, as published by a
leading Swedish newspaper
[read its English translation
here
].
Donald Boström, a Swedish photographer who worked in the West Bank in 1992, was tipped off by UN officials to follow the bloody trail of Israeli soldiers who had kidnapped young Palestinians and returned their dead bodies five days later "with a slit from the abdomen up to the chin." The families in the West Bank and in Gaza felt that they knew exactly what had happened: "Our sons were used as involuntary organ donors; they disappeared for a number of days only to be returned in the dark of night, dead and autopsied. Why did they keep their bodies for five days before letting us bury them? What happened to their bodies in the meantime? Why are they performing autopsies, against our will, when the cause of death is obvious? Why were their bodies returned at night time? Why was this done with a military escort? Why was the area closed off during the funeral? Why was the power supply interrupted?"