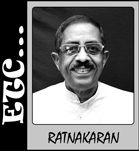 The Word bizarre means something strange or weird or very difficult to explain. Could the operators of this mega fraud have given the name Bizarre deliberately so that they could laugh at the many thousands of victims for their folly of jumping on to the bandwagons of money chain? The mindset of the Malayali is something that eludes comprehension.
To be sure this is not going to be the last of the queer acts of scoundrels, who have been bidding for the most opportune time to hit at the weakest point of a human being - that is greed. The urge to make a quick buck! Most people here long to become millionaires overnight. And they seem to be willing to fall headlong into these traps.
The money chains are quite obvious traps. No man of reason can conceive the idea of a magic wand doubling the money you invest just in three years - that too after taking away a considerably big amount from it as commission to the agents, who succeed in enticing the customers into it. That those few agents who are at the uppermost rung of the money chain gain the most, and those thousands at the lower most rung lose everything is the proven fact.