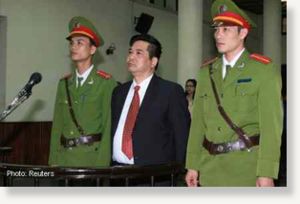 The son of a Vietnamese revolutionary leader was jailed for seven years on Monday for spreading anti-state propaganda, in one of the communist nation's most politically charged cases in years.
After a trial lasting about half a day, Cu Huy Ha Vu was convicted of advocating an end to one-party communist rule. The 53-year-old was charged after twice trying to sue the prime minister.
"Cu Huy Ha Vu's behaviour is serious and harmful to society. His writings and interviews blackened directly or indirectly the Communist Party of Vietnam," said Nguyen Huu Chinh, the head judge.
The veteran activist could have faced up to 12 years in prison on the charge, which rights campaigners say criminalises peaceful dissent.
His case led to "an unprecedented movement of popular support", much of it on the Internet, from diverse groups including Catholics, academics, and even high-level communists, said Phil Robertson, deputy Asia director of Human Rights Watch (HRW).