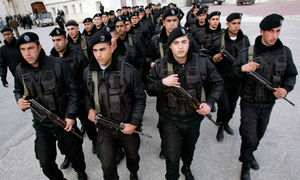 Internment and replacement of imams among measures

Document proposed 'direct lines' to Israeli intelligence

New files reveal Israel requested assassination of militant
British intelligence helped draw up a
secret plan for a wide-ranging crackdown
on the Islamist movement Hamas which became a
security blueprint
for the Palestinian Authority, leaked documents reveal. The plan asked for the
internment of leaders and activists, the closure of radio stations and the replacement of imams in mosques
.
The disclosure of the British plan, drawn up by the intelligence service in conjunction with Whitehall officials in 2004, and passed by a Jerusalem-based MI6 officer to the senior PA security official at the time, Jibril Rajoub, is contained in the cache of confidential documents obtained by al-Jazeera TV and shared with the
Guardian
. The documents also highlight the intimate level of military and security cooperation between Palestinian and Israeli forces.
The bulk of the
British plan
has since been carried out by the West Bank-based PA security apparatus which is increasingly criticised for authoritarian rule and human rights abuses, including
detention without trial and torture
.