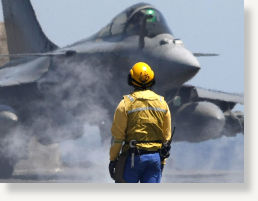 Pentagon says jets operating under NATO command, Rebels ask for stronger air campaign
The Pentagon revealed for the first time Wednesday that U.S. fighter jets have continued to strike Libyan air defenses after turning the mission over to NATO.
Pentagon spokesman Col. Dave Lapan said the jets were assigned to NATO and are operating under NATO command. They can be used when needed to take out enemy defenses as part of the enforcement of the no-fly zone.
CBS News National Security correspondent David Martin reported the missions, announced in an oh-by-the-way fashion by the Pentagon, have involved a handful of F-16s that have dropped a half-dozen bombs. While officials may claim American is taking a back seat in the campaign, U.S. jets have attacked Libyan targets three times in the last 10 days. Add in aerial refueling, reconnaissance and electronic jamming missions and the U.S. is flying 35 percent of all the NATO missions.
Separately, the U.S. has said that since the Libyan mission was turned over to NATO last week, special requests must be made for American fighters to conduct airstrikes to protect civilians. Lapan said there have been no requests for that kind of help.