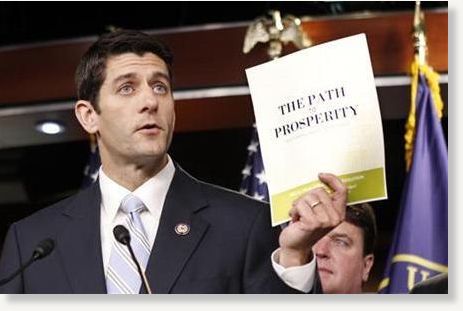 Republicans in the House of Representatives united on Friday behind a 2012 budget plan slashing trillions of dollars in government spending while cutting taxes -- two achievements conservatives say are necessary ingredients for a deal to raise the U.S. debt limit.
The vote effectively serves as the Republicans' opening gambit in what are likely to be contentious negotiations with President Barack Obama and his Democrats over debt and deficits in the coming months. The Congress must decide within weeks on raising the $14.3 trillion debt ceiling.
By a vote of 235-193, the House passed the plan written by House Budget Committee Chairman Paul Ryan for the 2012 fiscal year beginning October 1.
Democrats rejected the measure, which proposes slashing spending by nearly $6 trillion over a decade and reducing benefits for the elderly and poor. All but four Republicans supported it.
There is almost no chance of the Senate approving the measure in its current form.
The White House swiftly condemned the measure but said it was committed to working with Republicans to bring down record deficits that all sides acknowledged imperil the country's economic future.