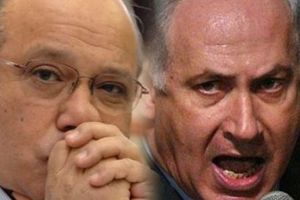 Friction among Israeli spy officials and Prime Minister Benjamin Netanyahu are on the rise over the prospect of a military conflict with Iran.
Israeli Minister for the Home Front Defense Matan Vilnai and former Mossad chief Meir Dagan have both warned Netanyahu that should the regime launch an attack on Iran, more than 1,000 rockets will hit "central Israel for an undetermined period of time" on a daily basis,
Haaretz
reported on Tuesday.
In a series of remarks in May, the former Mossad chief said that any Israeli aerial attack against Iran's nuclear facilities would be "the stupidest thing," and warned that any such measure "could start a regional war which will include missile fire from Iran."
Earlier in the month, a source close to prominent Iraqi cleric Muqtada al-Sadr's group said Israeli jet fighters had conducted drills at a military base in Iraq in order to strike targets inside Iran.