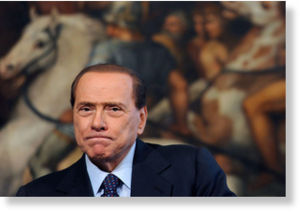 Italy's Prime Minister has bounced back from countless scandals, but the latest allegations may prove disastrous
Silvio Berlusconi maintained at least 14 glamorous young women in apartments in a gated complex outside Milan, leaks from prosecutors in the city revealed yesterday. They lived rent-free in the estate and were given large sums of cash by the billionaire politician in return for sex.
Milano Due was one of the first gated housing estates in Italy, a sprawling complex of flats set in landscaped gardens, built by Mr Berlusconi himself in the 1970s when he was a thrusting young property developer. With underground parking, a supermarket, bars and other facilities, it is one of the most fashionable addresses in the Milan hinterland. When he moved into television, Mr Berlusconi located the headquarters of Mediaset, his television company, here.
But in his declining years the estate has also become the headquarters of what is, in effect, his harem, it is alleged. Its presence was revealed by Corriere della Sera newspaper yesterday in yet another blow to the battered image of the Prime Minister as he prepares to defend himself against what could be the gravest crisis of his political career. Prosecutors in Milan are demanding that he be put on trial immediately for having sex with an underage prostitute.
The existence of the flats was revealed by Karima El Mahroug, a teenage belly-dancer from Morocco who trades under the name of Ruby Rubacuori, "Ruby heart-stealer". She ruined Mr Berlusconi's summer last year when it emerged that he had contrived to have her sprung from police custody after she was suspected of theft. He told police they were actually holding the granddaughter of President Mubarak of Egypt. As a prosecutor in Milan remarked subsequently: "If she's Mubarak's granddaughter, I'm Queen Nefertiti."