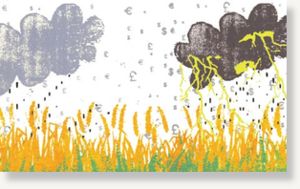 It's not just bad harvests and climate change - it's also speculators that are behind record prices. And it's the planet's poorest who pay
Just under three years ago, people in the village of Gumbi in western Malawi went unexpectedly hungry. Not like Europeans do if they miss a meal or two, but that deep, gnawing hunger that prevents sleep and dulls the senses when there has been no food for weeks.
Oddly, there had been no drought, the usual cause of malnutrition and hunger in southern Africa, and there was plenty of food in the markets. For no obvious reason the price of staple foods such as maize and rice nearly doubled in a few months. Unusually, too, there was no evidence that the local merchants were hoarding food. It was the same story in 100 other developing countries. There were food riots in more than 20 countries and governments had to ban food exports and subsidise staples heavily.
The explanation offered by the UN and food experts was that a "perfect storm" of natural and human factors had combined to hyper-inflate prices. US farmers, UN agencies said, had taken
millions of acres of land out of production to grow biofuels
for vehicles, oil and fertiliser prices had risen steeply, the Chinese were shifting to meat-eating from a vegetarian diet, and climate-change linked droughts were affecting major crop-growing areas. The UN said that an extra 75m people became malnourished because of the price rises.