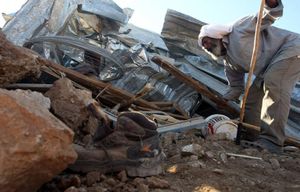 Bedouins in the Negev continue to be targeted by Israeli efforts to displace them. The Israeli government has now approved a plan that would uproot
30,000 Palestinians
and place them in "recognized villages."
The situation of Palestinians inside the green line is bleak, especially when compared to the hopeful atmosphere sparked throughout the region by the Arab Spring. Plans are underway to forcibly relocate tens of thousands of Palestinian Bedouins to designated towns that are in a deplorable condition.
The relocation scheme was among the recommendations of the Prawer Report, which called for relocating more than 30,000 Arab Bedouins in the Siaj section of the Negev to housing compounds elsewhere in the desert region south of the country.