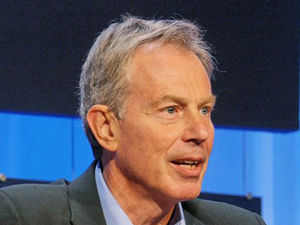 The former prime minister was reportedly present in March last year when Murdoch's two daughters by his third wife were baptised on the banks of the Jordan.
The information was not made public and its disclosure in an interview with Mrs Murdoch in Vogue will prove highly embarrassing for Mr Blair.
His close ties to the Murdochs could explain his reluctance to condemn the News International phone hacking scandal.
In July, it was reported that he asked Gordon Brown to put pressure on Tom Watson, the Labour MP who helped expose the scandal, to drop his investigation.
Mr Blair's spokesman categorically denied the allegation.