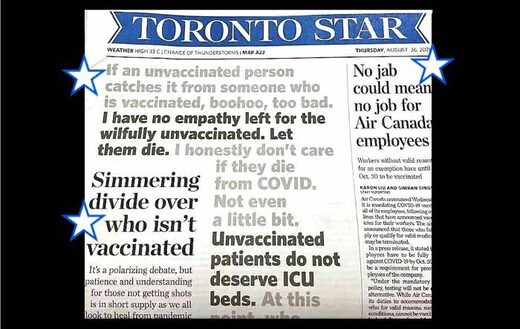 In an editorial dated December 20, 2021 the
Toronto Star
argues that
"refusing to get vaccinated (other than for religious or health reasons) is a willful, selfish, anti-social act that can no longer be condoned," and asks "is it time for our political leaders to make vaccination against COVID-19 the law?"
The Star
asserts the following as "irrefutable" facts:
The government of Canada has declared COVID vaccines safe.
Vaccines reduce the risk of death from COVID and lower the burden on doctors and nurses holding our health care system together.
If you are not vaccinated, you put yourself at risk and intentionally burden the health care system supporting your family, friends, and colleagues.
When our hospital critical care units become overwhelmed with COVID care, they can no longer function to treat other diseases, injuries, and accidents.
With hospitals overwhelmed, our government will mandate forced lockdowns, resulting in social isolation that has been shown to contribute to increased drug overdoses, suicides, and spousal abuse.
It is certainly true that
"the government of Canada has declared COVID vaccines to be safe" but government declarations do not create reality.
In the 1940s,
governments authorized
the widespread spraying of the "safe" insecticide DDT on people, in a sincere effort to "save lives" from polio, but DDT was banned in the 1970s as dangerous to public health.