Its call sign has always been Air Force One. But on Tuesday, it was Special Air Mission 28000, as former President George W. Bush and his wife Laura returned home to Texas on a plane full of family, friends, former staff and memories of eight years in the White House.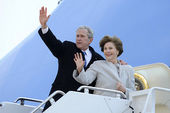 The former president and his wife thanked each passenger, showing the thoughtfulness and grace so characteristic of this wonderful American family.
A video tribute produced warm laughter and inevitable tears. There was no bitterness, but rather a sense of gratitude -- gratitude for the opportunity to serve, for able and loyal colleagues, and above all for our country and its people.
Yet, as Mr. Bush left Washington, in a last angry frenzy his critics again distorted his record, maligned his character and repeated untruths about his years in the Oval Office. Nothing they wrote or said changes the essential facts.
To start with, Mr. Bush was right about Iraq. The world is safer without Saddam Hussein in power. And the former president was right to change strategy and surge more U.S. troops.