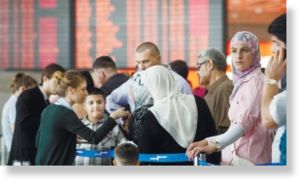 Dozens of Israelis say they were humiliated at Istanbul airport, forced to strip to their underwear on Monday; Foreign Ministry officials say humiliation of Turkish citizens happens on regular basis in Israel.
Foreign Ministry officials told
Haaretz
on Monday that over the past year, there were dozens of complaints on the part of Turkish citizens who claimed they were humiliated by Israeli security personnel at Ben-Gurion airport.
The officials also said that almost every Turkish citizen who arrives at Ben-Gurion airport undergoes a routine procedure of extensive, humiliating examinations that also include undressing to one's underwear.
"Turkish citizens are always separated from the rest of the passengers at the airport," said a Foreign Ministry official.
"When their luggage is thoroughly examined and they undergo extensive questioning they understand it comes from security needs, but when they get to the strip search part it breaks them and they are humiliated. Many Turkish businesspeople and tourists have complained about this in the past.
This humiliation ceremony of Turkish citizens is a routine matter."