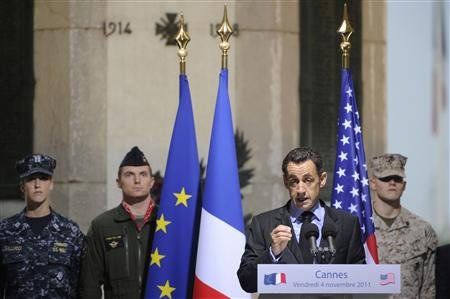 France announced 65 billion euros of tax hikes and budget cuts over five years on Monday, as President Nicolas Sarkozy seeks to protect the country's creditworthiness in financial markets without killing his chances of re-election in six months time.
The main goal was to protect a top-notch credit rating that allows France to fund itself as cheaply as possible at a moment when the debt market crisis that started in Greece threatens to engulf far bigger fish such as Italy.
But economists said the government's growth outlook was still too optimistic, even after cutting the forecast for 2012 to 1 percent from 1.75, meaning the latest measures might not be enough for France to meet its deficit reduction goals.
They also said that much of the plan would have to be carried out by a new government chosen in the election that takes place in two rounds next April and May.
The second package of cutbacks in three months was left to Prime Minister Francois Fillon to announce and included a rise in VAT sales tax and cuts in welfare benefit as well as heftier taxation of dividend income and, temporarily, corporate profit.