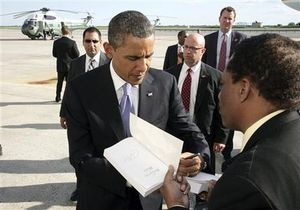 Aligning himself with a public fed up with economic uncertainty and Washington gridlock, President Barack Obama declared Thursday: "There is nothing wrong with our country.
There is something wrong with our politics
."
His toughly worded message - he said there was frustration in his voice, in case anyone missed the point - came amid a series of polls showing that people are disgusted with political dysfunction and are dispensing blame all around, including on Obama.
Obama aired his frustration with the ways of Washington at an event in Michigan before pivoting to his re-election campaign and a pair of
big-money fundraisers
in New York City.