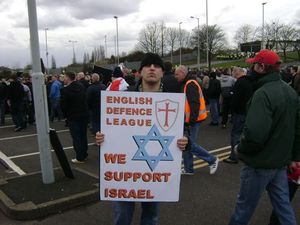 Analysts have voiced their concerns over British government's miscarriage of justice, sentencing a boy for stealing a bottle of water to six months imprisonment, but gave away an EDL thug attacking a mosque with £ 200.
British government has taken one more step in favor of Zionist funded English Defence League (EDL) by passing very light sentences on its members who overtly shouted "we'll burn your mosques."
During last week's massive unrests across England, thousands of people were arrested and appeared in courts and received harsh sentences even on minor crimes, since the cabinet ministers reportedly violated the judiciary's independence.
Following the widespread unrests in England, two men were sentenced to four years in prison for inciting riots on Facebook and one man was sentenced to 18 months for having a stolen TV in his car.