MPs back president's move to suspend constitution, ban street protests and give security agencies greater powers of arrest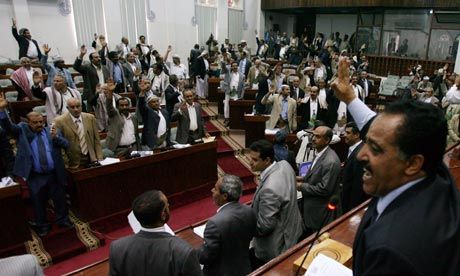 Yemen's parliament has approved a sweeping set of emergency laws giving broader powers of arrest and censorship to the president, Ali Abdullah Saleh, despite growing calls from opponents demanding he quit to make way for a military-backed democratic transition.
The emergency law, last evoked during Yemen's 1994 civil war, suspends the constitution, allows for greater media censorship, bans street protests and gives security agencies arbitrary powers to arrest and detain suspects without judicial process.
The approval of the emergency laws came as talks between oil giant Saudi Arabia and Major General Ali Mohsen al-Ahmar, a top Yemeni commander who abandoned the president on Monday, failed to yield a clear transition of power.