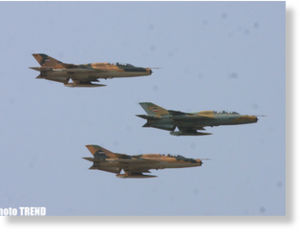 Iran launched military drills across half the country on Monday, warning it would act against aggressors less than a week after Washington accused Iranian warplanes of firing on a U.S. drone.
The maneuvers will take place this week across 850,000 square kilometers (330,000 square miles) of Iran's northeast, east, and southeast regions, Iranian media reported.
Some 8,000 elite and regular army troops will participate, backed by bombers and fighter planes, while missile, artillery and surveillance systems will be tested, various media said.
Played out against a backdrop of high tension between the United States and Iran over Tehran's nuclear program, the 'Velayat-4' maneuvers will involve the biggest air drills the country has ever held, Iran's English-language Press TV reported.
"These drills convey a message of peace and security to regional countries," Shahrokh Shahram, the spokesman for the exercises, told the broadcaster on Monday. "At the same time they send out a strong warning to those threatening Iran."
Last week, the U.S. Pentagon said Iranian planes opened fire on an unarmed U.S. drone over international waters on November 1.
Iran said it had repelled "an enemy's unmanned aircraft" violating its airspace.