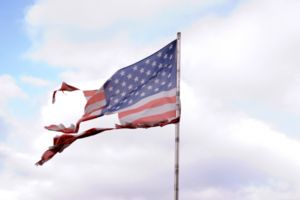 "We pledge allegiance to the republic for which America stands and not to its empire for which it is now suffering." Sam Smith, editor of the Progressive Review
September 02, 2012 "
Information Clearing House
" - Louis XVI needed a revolution, Napoleon needed two historic military defeats, the Spanish Empire in the New World needed multiple revolutions, the Russian Czar needed a communist revolution, the Austro-Hungarian and Ottoman Empires needed World War I, the Third Reich needed World War II, the Land of the Rising Sun needed two atomic bombs, the Portuguese Empire in Africa needed a military coup at home. What will the American Empire need?
Perhaps losing the long-held admiration and support of one group of people after another, one country after another, as the empire's wars, bombings, occupations, torture, and lies eat away at the facade of a beloved and legendary "America"; an empire unlike any other in history, that has intervened seriously and grievously, in war and in peace, in most countries on the planet, as it preached to the world that the American Way of Life was a shining example for all humanity and that America above all was needed to lead the world.
The Wikileaks documents and videos have provided one humiliation after another ... lies exposed, political manipulations revealed, gross hypocrisies, murders in cold blood, ... followed by the torture of Bradley Manning and the persecution of Julian Assange. Washington calls the revelations "threats to national security",
but the world can well see it's simply plain old embarrassment
. Manning's defense attorneys have asked the military court on several occasions to specify the exact harm done to national security. The court has never given an answer. If hell hath no fury like a woman scorned, consider an empire embarrassed.